積極賣出
賣出
中和
買進
積極買入
| | | |
| --- | --- | --- |
| 指標 | 值 | 信號 |
| RSI | | 買進 |
| MACD | | 賣出 |
| MA(200) | | 中和 |
| Fractals | | 中和 |
| Parabolic SAR | | 買進 |
| Bollinger Bands | | 中和 |
圖表分析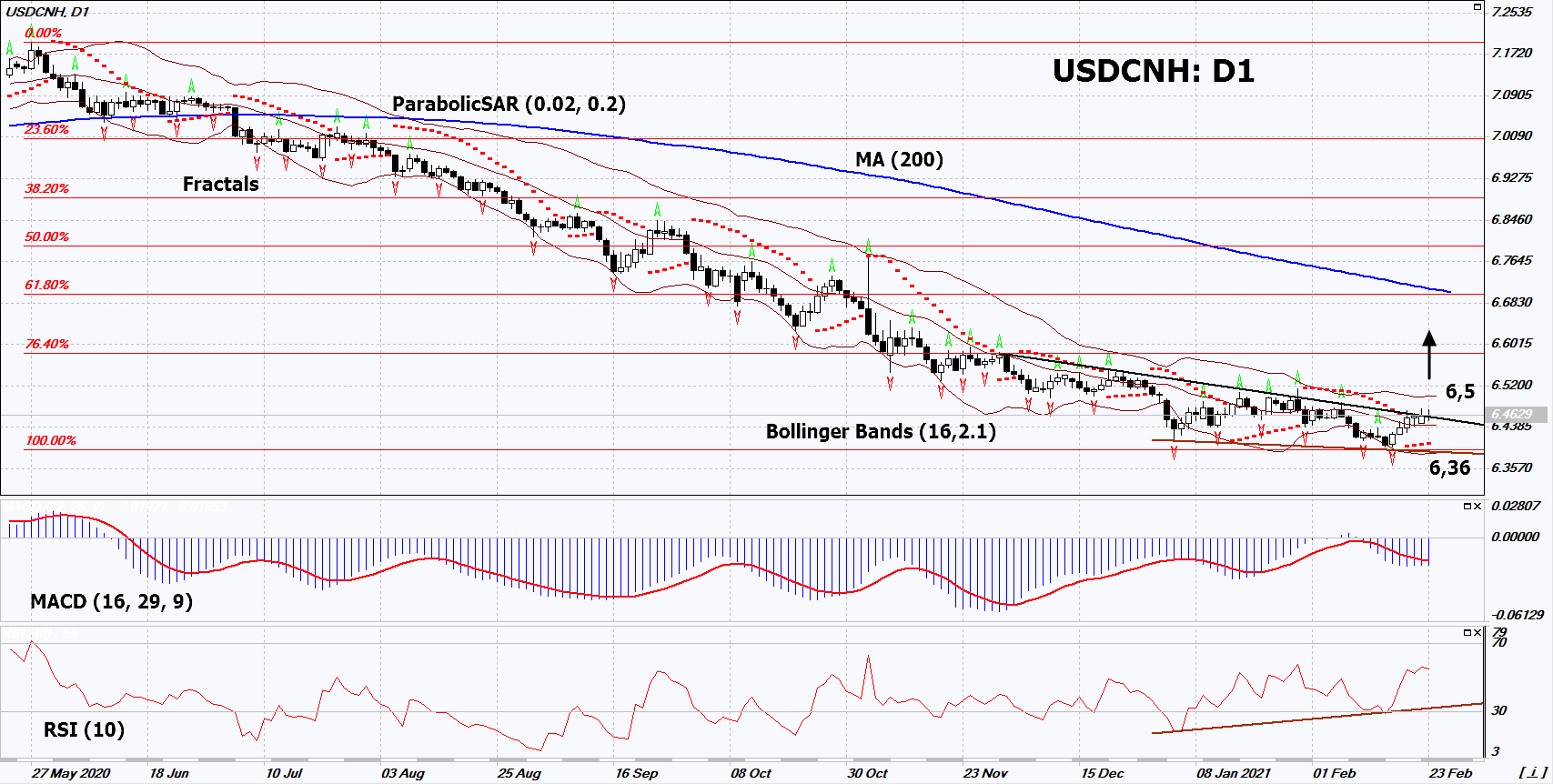 On the daily timeframe, USDCNH: D1 approached the resistance line of the long-term upward channel. It must be broken upward before opening a position. A number of technical analysis indicators formed signals for further growth. We do not rule out a bullish movement if USDCNH: D1 rises above the upper Bollinger band: 6.5. This level can be used as an entry point. We can place astop loss below the Parabolic signal, the lower Bollinger band and the last lower fractal: 6.36. After opening a pending order, we can move the stop loss to the next fractal low following the Bollinger and Parabolic signals. Thus, we change the potential profit/loss ratio in our favor. After the transaction, the most risk-averse traders can switch to the four-hour chart and set a stop loss, moving it in the direction of the bias. If the price meets the stop loss (6.36) without activating the order (6.5), it is recommended to delete the order: the market sustains internal changes that have not been taken into account.
基本面分析
The PRC Foreign Ministry announced its intention to resume dialogue with the USA. Will the USDCNH quotes grow ?
The upward movement means weakening of the renminbi against the American dollar. Chinese Foreign Minister Wang Yi called on the US authorities to restore the bilateral dialogue, which had almost ceased under the previous administration. Former American President Donald Trump's main demand was to change the terms of trade so that China would reduce its trade surplus with the US. In particular, duties on Chinese goods were increased. The USA demanded to increase purchases of American food and other products, and China retaliated. All this was called the "American-Chinese Trade War". As a result, China's trade surplus with the US rose by 7.1% in 2020 compared to 2019 and amounted to $316.9 billion, while mutual trade turnover fell by almost 15%. Perhaps some new initiatives by the Chinese authorities will help solve this "American problem". The decline in the trade surplus may contribute to the USDCNH correction. Note that tno significant economic data are due out in China this week.
附注:
本文針對宣傳和教育, 是免費讀物. 文中所包含的資訊來自於公共管道. 不保障資訊的完整性和準確性. 部分文章不會更新. 所有的資訊, 包括觀點, 指數, 圖表等等僅用於介紹, 不能用於財務意見和建議. 所有的文字以及圖表不能作為交易的建議. IFC Markets及員工在任何情況下不會對讀者在閱讀文章中或之後採取的行為負責.
POPUP_UNIVERSAL_PROGRAM